Visit our Facebook page: www.facebook.com/Vonpeta​

PUPPIES
Please click here for latest information regarding availablity of puppies - PICK BOY AVAILABLE TO SHOW HOME.
AUSTRALIAN CHAMPION NUMBER 34!
Australian Ch Vonpeta Faze Im Goin Thru AZ (title pending) gained her title in Mount Gambier in fine style. At only 15 months our second Billidakid daughter (sire Alimanda Fire Walker) is hopefully following in her big sisters foot steps! Thanks to Darcy Clark for handling and enduring Peter's crazy sense of humour to get this girl titled!!! Whoooo Hoooo!​​​​
WE GOT IN ON THE ACT IN THE ACT!
Supreme Ch Vonpeta Ugottbekidding AZ Class I Multi Exc Graded performed at his best to be Excellent 2 behind the magnificent Xaro (I think that is about the 4th time this has happenned). Australian Champion Vonpeta Grace N Beauty AZ (Title Pending) was awarded Best/Challenge Bitch from the Junior Class. This put her over the line for her title. Sensational achievement after just 3 months in the show ring.
Go Pu-ma-pants!
Puma was also awarded Junior in Show at the ACT Group Specialty Show along with her 3/4 sister Vonpeta Just Slip N Trip being awarded Minor in Show. Great weekend in the nations capital......
2017 ADELAIDE ROYAL - ANNIE BEST IN GROUP 3RD
Ch Vonpeta Xmissustoo AZ Class I Multi Exc Graded performed at her absolute best at this years Royal Show to clinch Best in Group 3rd behind some outstanding animals. On top of her Best of Breed win, Ch Vonpeta Bettabegood AZ was 1st Intermediate Bitch, Reserve CC Bitch and Runner Up Best of Breed. Vonpeta Give Us a Grin AZ 1st Junior Bitch and Vonpeta Faze Im Goin Thru AZ 2nd Junior Bitch. Vonpeta Grace N Beauty AZ took out LSC Best of Breed, from the Junior Class. GREAT ROYAL! Great job and thank you to Darcy Clark, Andrew O'Loughlin and Peter Damarell for handling and not to be forgotten a special mention to Darcy's mum Jo and "Tentefield" Jan for their assistance with "holding".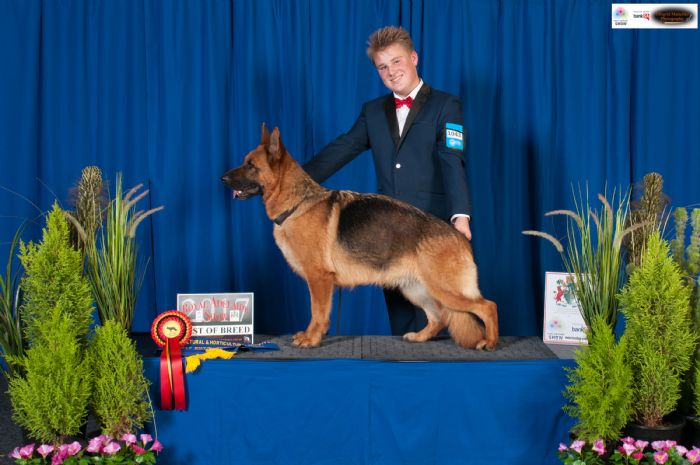 FINALLY - SUPREME AT LAST
GRAND Ch Vonpeta Ugottbekidding AZ Class I Multi Exc Graded can now known as SUPREME CHAMPION.... Thanks to all of the judges that have recognised Kid in the show ring. Thanks to co owner Andrew for his handling skills as always......
JANUARY 2017
Ch Vonpeta Ugottbekidding AZ Class I Multi Exc Graded was awarded Best in Group under Breed Specialist Mrs Jean Butterfield on Sunday 19 Feb. Kid only needs one more group to achieve his Supreme Title!

ON A ROLL!
Vonpeta Faze Im Going Thru on a roll with 7 Baby in Groups and 1 Baby in show as at 4 December 2016. Faza is by a young dog who is producing some cracker progeny *Alimanda Fire Walker AZ. Her mother *Vonpeta Ourbillidakid AZ has already produced a Champion *Ch Vonpeta Xmissusstoo AZ who achieved her title at 13 1/2 months of age.

UGOTTBEKIDDING BEST OF BREED 2016 ADELAIDE ROYAL - BACK TO BACK ROYAL SHOW WINS
Ch Vonpeta Ugottabekidding AZ Class I was awarded Best of Breed at this years Royal Show. Vonpeta Zipper Dee Doo Daa AZ Class I won the Australian Bred Bitch Class and Vonpeta Betterbegood AZ the Junior Bitch Class Thanks, as always to handler Andrew and to Judy & Andrew (Arkahla Kennels) for having Zippy is such beautiful condition.

​ROYAL STOP PRESS: KID GOES RUNNER UP IN GROUP 5 ADELAIDE ROYAL.....
Critique by the Judge from the Royal "I had a super mover (both BOB and Runner UP) and beautiful puppies. It was one of the first time I have enjoyed to judge this breed)"
Just proves that the GSD can do it in both rings!

UGOTTBEKIDDING EXCELLENT 6 OPEN DOG 2015 GSD NATIONAL SHOW & TRIAL
Ch Vonpeta Ugottabekidding AZ Class I was graded Excellent 6 at the 2015 GSD National Show & Trial. The Kid was the second youngest in the class and was the second highest placed Australian Bred Dog. Congratulations to his dad Toby v Plassenburg on the Gold Medal and his 1/2 brother on Excellent 7.

VONPETA WINS BREEDERS GROUP 2015 GSD NATIONAL SHOW & TRIAL
Thanks to handlers Andrew, Tori, Robert, Bree & Rhonda for handling in the Breeders Group - great effort guys - we are over the moon!

UGOTTABEKIDDING - AVAILABLE AT STUD
"The Kid" Ch Vonpeta Ugottabekidding AZ (Toby vd Plassenburg x Vonpeta Champagne)
CLICK HERE to be directed to "The Kid's" Stud Dog page.

Please visit our Puppy Page if you are interested in purchasing a quality puppy from quality lines.
CLICK HERE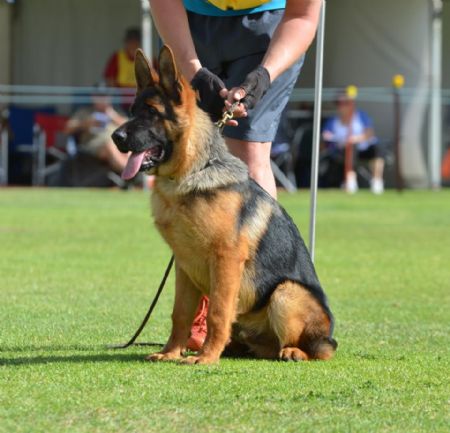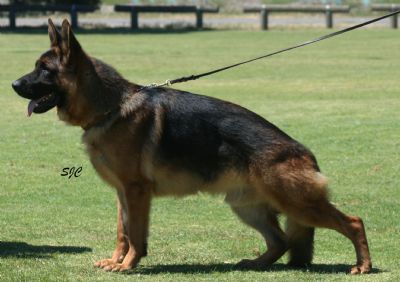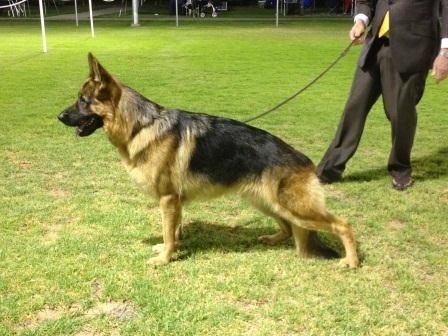 Ch Vonpeta Tolder Just Do It A Z (co owned with Melissa Lloyd from Vondoussa Kennels) Champion number 29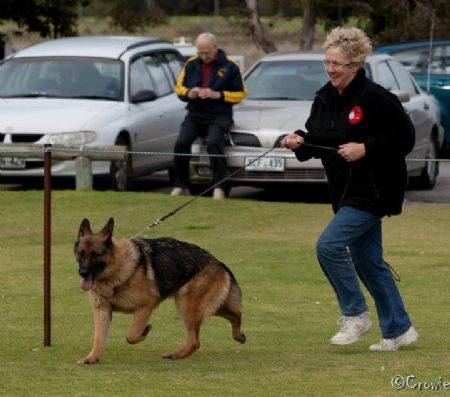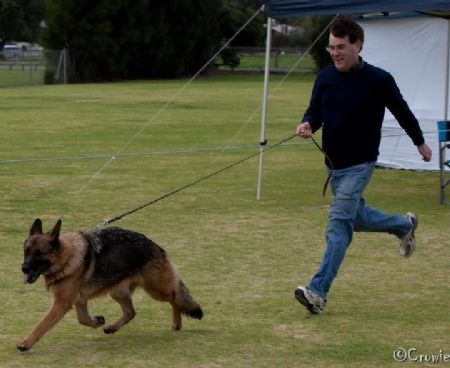 Members of the GSDC of SA and Dogs SA. Vonpeta Kennels feed only ADVANCE and are proud ADVANCE Ambassadors.
95616 Visitors